Cardigan Golf Club: A Real Challenge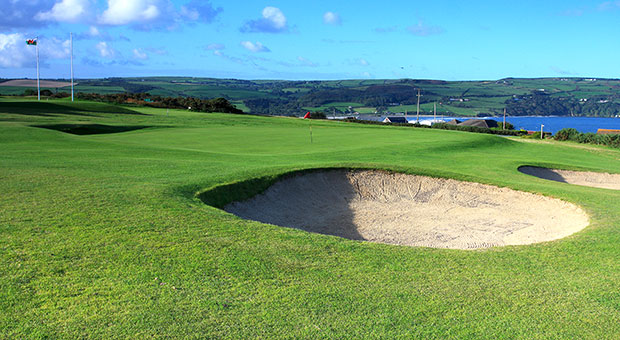 Golfers who visit the Cardigan Golf Club in Wales, do so to face a challenge unlike any they have seen. The course is situated in a way which makes it challenging for any golfer. Natural elements, combined with a purposeful design, makes this one of the toughest courses that you could ever play.
The Towyn Course was created by Tenby Professional J.E. Grant. This course has history, as it was designed in the late 1920's. Since that time, landscaping additions and links of various difficulties, have turned this golfing destination into an excellent course.
Cardigan Golf Club gets plenty of attention because it is playable throughout all of the seasons. This is due in large part to the excellent design of the course, which allows it to drain water effectively. Some golf courses can remain unplayable for days, or even weeks, after a hard rain falls. A mild climate also contributes to the popularity of this club course, and it contributes to the course's playability as well. Golfers of every handicap will find challenges when they play there. Due to the course's unique challenges, major tournaments such as Golf Union of Wales Championships are hosted there.
The natural breezy conditions which occur are one of the may reasons why the club attracts so many golfers from multiple countries. It is located right off of the water, so stiff breezes are the norm all year long. Golfers must be able to adjust and play with the wind if they hope to achieve a favorable score. What works on one's home golf course might not work at Cardigan Golf Club. Your club selection will largely be determined by the weather you face once you hit the links. Aggressive players will find that they will need to shorten their shots to prevent high scores.
Hole navigation is made easy through a comprehensive score card guide. Hole #1 is one of the toughest opening holes in all of golf. It is a par 4 of 418 yards which is difficult to conquer due to its location. South westerly winds can carry your ball and leave a difficult second shot. Even if your shot from the tee is true, the green is hidden, and you must rely on course information to have a chance at a makeable birdie putt. You must aim left of your desired target to compensate for the challenges of wind direction.
While the Cardigan Golf Club might not be ideal for players who are just starting out, it does offer a chance for beginners and pros to put their skills to the ultimate challenge. For example, hole #10 is a par 3 with a green that slopes from back to front, and it allows newer golfers to reach the green comfortably. The scenery of the course is magnificent, and it can distract the most seasoned professionals. If you are up for a real challenge, then you should book a trip to Wales for an incredible game of golf.