The Cardigan Golf Club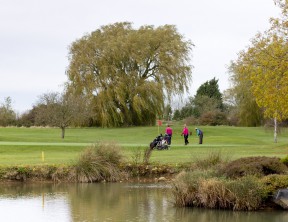 Cardigan Golf Club is a beautiful golf course which offers a challenge to a golfer of any skill level. Located in Cardigan, Ceredigion, it features a club house and a pro shop for visitors. The course is an excellent place to go if you value a scenic experience with your golf adventure. It offers great challenges due to the naturally breezy conditions that you will find there. People travel from all over the world to experience all that the club has to offer. Let's take a closer look at what the Cardigan Golf Club has to offer.
The course measures roughly 6500 yards from the most challenging tee locations. It is situated along the shore of Cardigan Bay, right on top of the Teifi Estuary. The views of the sea, combined with the sound of waves hitting the shore, make this an absolutely stunning location to house a golf course. Many pros find this course to be challenging, as the hole locations make approach shots difficult. Rolling fairways and quick greens makes for an interesting round that will challenge the most skilled players out there. The course is worthy of hosting international golf events, and it is a popular travel destination for people who need a real challenge.
The resident club professional is named Steve Parsons. He earned his PGA tour card in 2006, and he is highly qualified to offer advice and lessons to both beginner and professional golfers alike. Steve has been involved with golf his entire life because his father faithfully served as a club professional for 35 years. His lessons can enable you to shave strokes from your score in no time at all. If you are interested in learning more about the layout of the course before you play, or you need a less on or 2, then Steve Parsons is your man.
Their pro shop is one of the major draws of this club as well. Professionals are there to assist you with custom fitting your clubs. Additionally, you have access to the highest quality brand name golf clothing and other accessories on the market. Sometimes golf clubs eventually need to be repaired, and the pro shop at Cardigan Golf Club is perfectly capable of meeting this need.
If you're interested in learning more about the Cardigan Golf Club, please visit their website at www.CardiganGolf.com. After you visit Cardigan Golf Club one time, you will surely want to come back for a future trip.