Skills Needed To Conquer Cardigan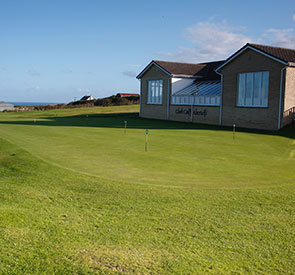 The Cardigan Golf Club has a well-deserved reputation for being one of the best golf courses in the world. Located in Cardigan, Ceredigion, it contains design elements which present problems for all golfers. Some may argue that the fantastic beauty of the course contributes to the higher scores people achieve there. Take one look out at the shores of Cardigan Bay, and you'll most likely agree. Tackling a course of this level requires preparation. Here are some of the necessary skills you will need to utilize in order to earn the best score possible.


If you truly wish to perform beautifully at the Cardigan Golf Club, then you must be able to accurately use the wind to your advantage. Winds blow off of the estuary, and they can create a turbulent situation for even the best golfers. This is especially true when you tee-off, as wind direction can mean the difference between a shot which lands in fair play, and one which lands in a precarious situation. Ideally you want to use the wind to your advantage when it is possible to do so. If the wind is at your back then you can carry tee and second shots much further than if the conditions were calm.
Distance judgment is another requirement of golfers who visit these links. Yes, your score card will tell you the distance from tee to green. However, the layout of the course makes these numbers deceiving. In some cases a 400-yard hole might actually play like a 500-yard hole. The reason for this is simple. the course is rife with fairways which roll up and down, and with greens which are elevated. This means that you must use more club in order to achieve desirable results. Try a golf club trial at golfsupport.com to find the best club for your game. Golfers who are stubborn will become frustrated if they are not willing to adjust their games to meet the challenge this course poses.
An accurate short game is another skill you must have to be able to conquer most holes at the Cardigan Golf Club. Many of the greens are protected by bunkers, so wayward approach shots can quickly turn a round into a disaster. Once you find yourself in a bunker it can be a challenge to place the ball anywhere near the hole. This is due in large part to how challenging the greens can be. The course features greens with two tiers in some places. This means that you will be required to putt uphill, only to see that putt begin a rapid descent as it approaches the hole.
There are many other skills that a golfer needs in order to be successful at this golf course, but adaptability seems to be the most important. You might be required to play outside of your comfort zone in some situations. Your favorite club might not achieve the trajectory you desire at this course due to the natural obstacles which stand in your way. However, if you are up to the challenge, then Cardigan Golf Course provides an experience unlike any other.