Cardigan Golf Club: Top 4 Toughest Holes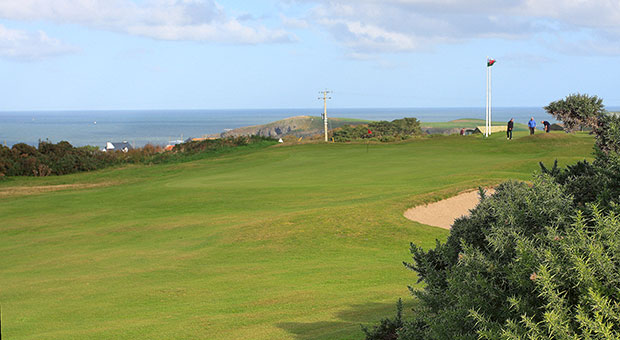 Cardigan Golf Club has developed a reputation for providing challenging links and ideal scenery for golfers who have a passion for the game. That said, it is not a course designed with the amateur in mind. Pro events are held at this location because it requires adaptability, concentration and significant skill. Locals love to play the course because it presents new challenges during each golfing trip. Weather patterns and wind direction make for an unpredictable, yet fun playing experience. Let's take a look at the top 4 toughest holes that you might encounter at Cardigan Golf Club.
Forget about getting eased into the difficulty of the course, as hole #1 provides a unique set of challenges. This hole is a par 4, and it is 418 yards long. While most pros and amateurs with talent can reach the green in 2 shots from this distance, wind direction often makes this endeavor impossible. When the wind is blowing hard your shot can carry far off course into rough. The green is not easy to reach as it is tough to judge distance due to its concealed location. You must rely on both skill and instinct to successfully shoot a low score here.
Hole #3 is another par 4 that will challenge anyone who dares to tee-off. While the hole is only 355 yards long, it presents a new new obstacles which set it apart from hole #1. There is a fairway bunker which gives many golfers problems because it is not visible from the tee box. As a result, more aggressive players who hit long tee shots often mistake a poor shot for a good one, until they reach the ball location. Additionally, the green is long, so you can easily leave yourself with a putt of 50 feet. Bunkers guard the green on both the left and right sides, making this one of the most challenging approach opportunities on the entire course.
Some golfers excel at navigating par 5 holes, while others do not. Hole #13 is difficult for both types of golfers. This is due to the fact that your tee shot is blind, meaning you cannot see where it is going to land while it is in flight. The hole is 500 yards, so it might be tempting for you to try and reach the green in 2 shots. However, if you miss the green to the right, you will find yourself stuck in 1 of 2 bunkers. It contains a two-tier green, meaning you might find that a poor approach will leave you with few options to make birdie.
Like most final holes, hole #18 is a challenging par 5. This whole is 492 yards long, and it is indeed possible to reach the green in 2 shots. Your tee shot must be accurate though, as the fairway becomes considerably narrow. Attempting to reach the green in 2 is complicated by challenging conditions found on both sides of the green.